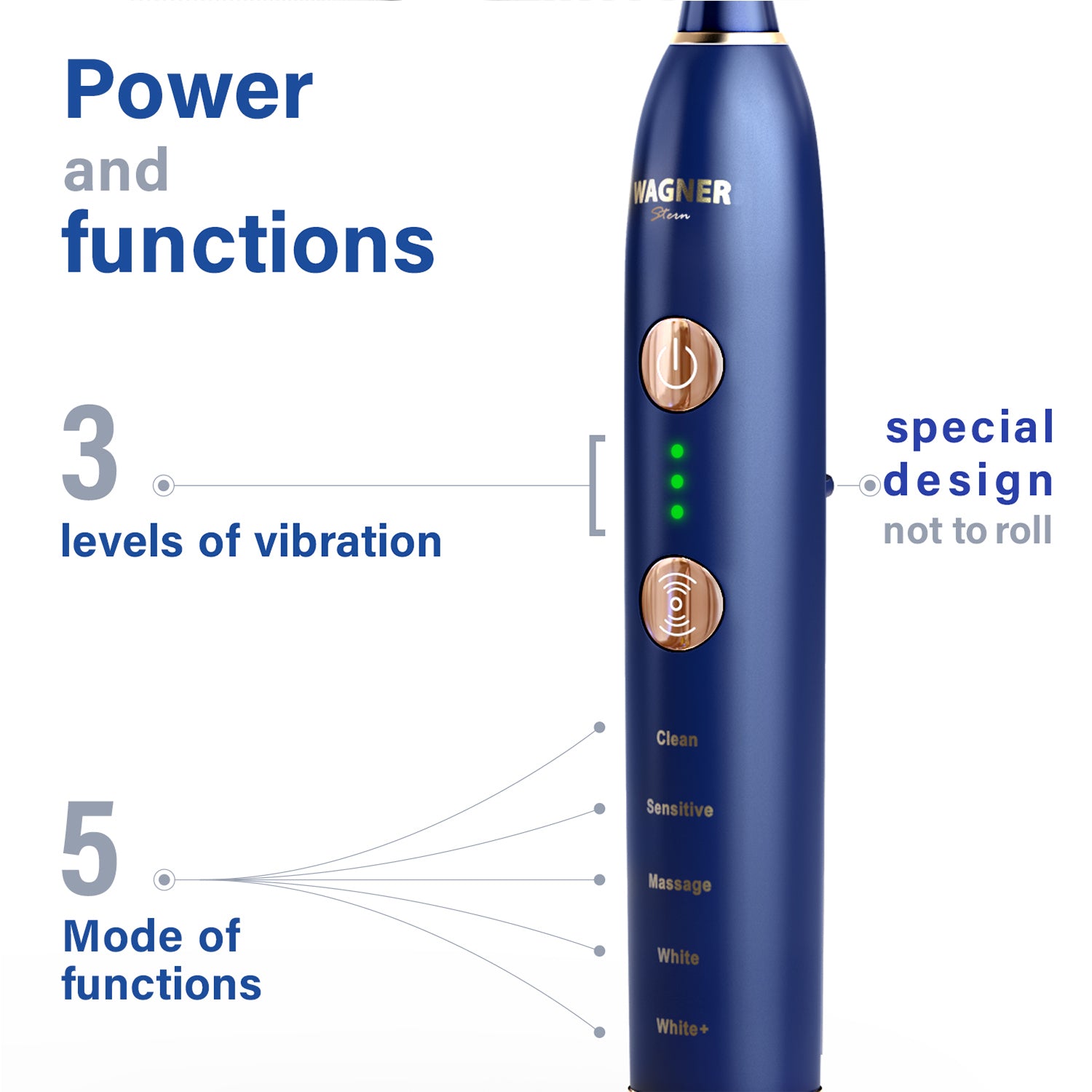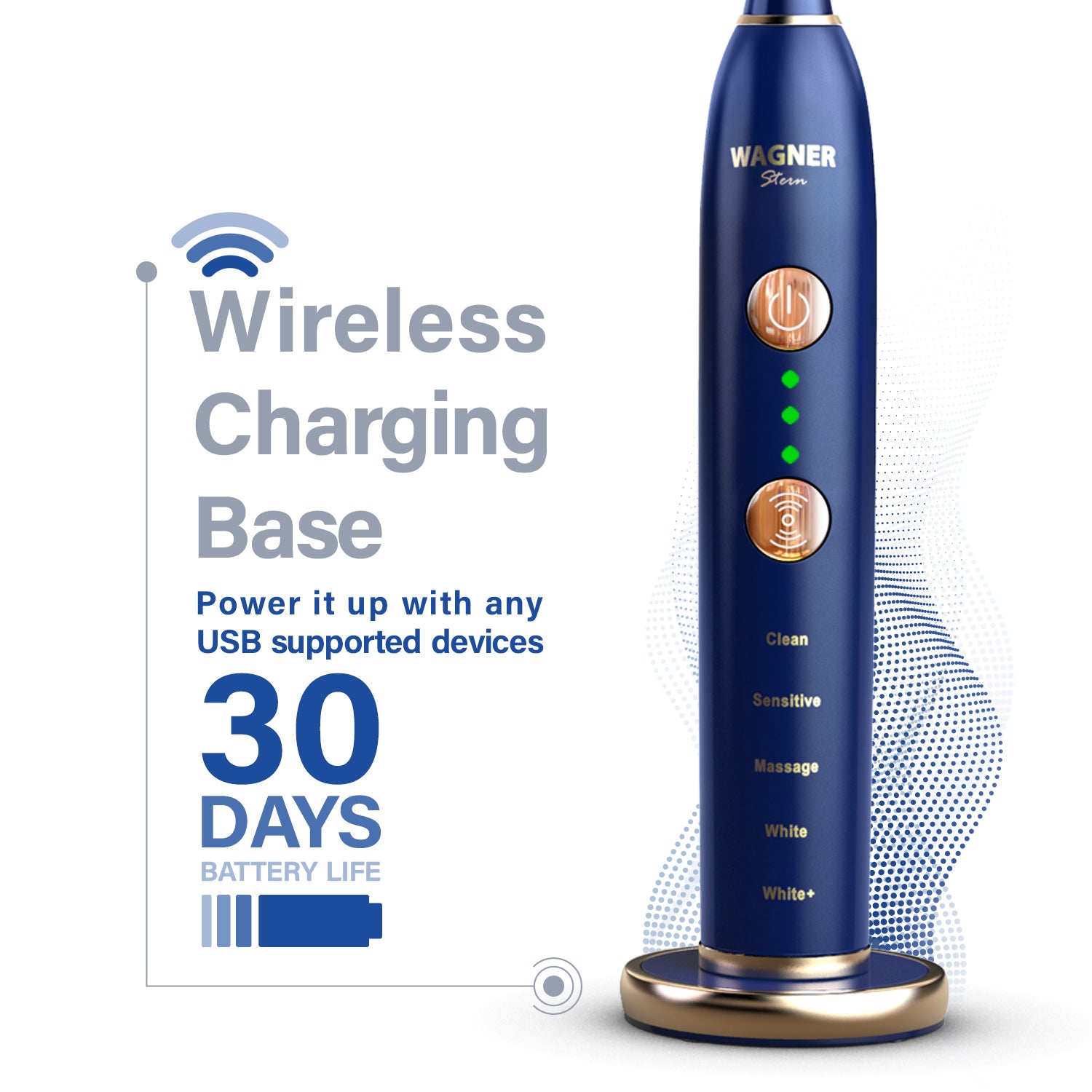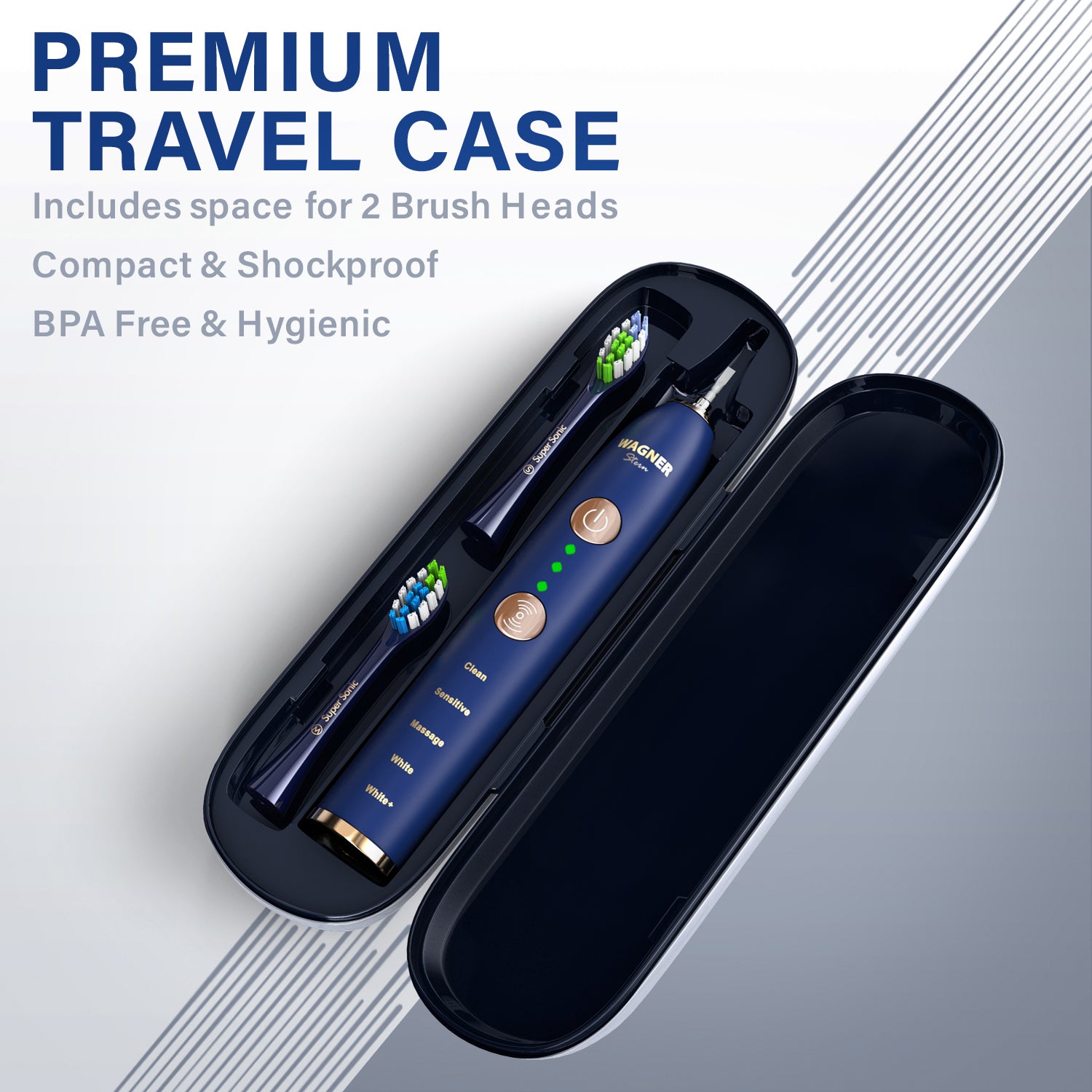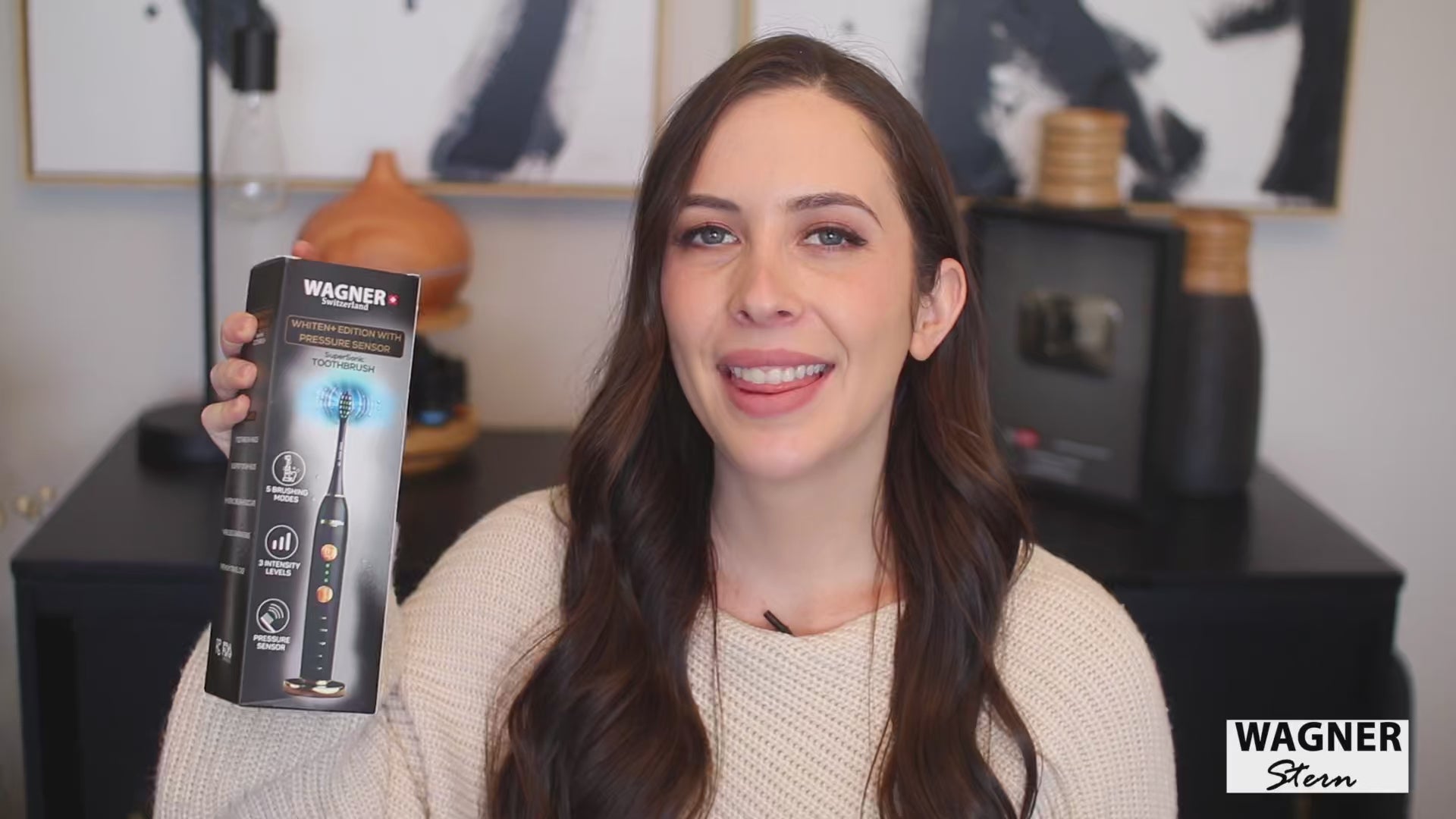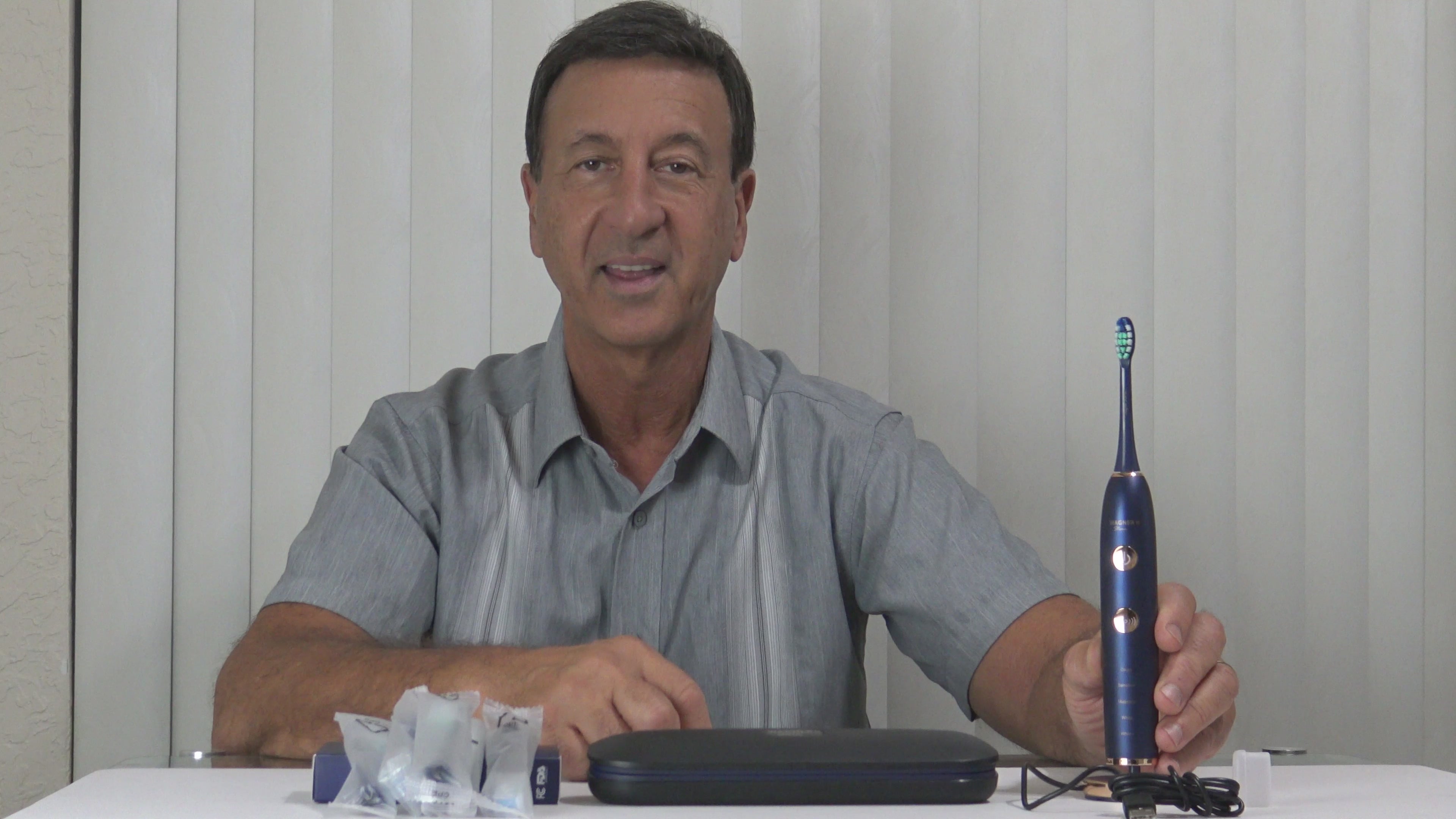 Wagner & Stern WHITEN+ Edition. Smart Electric Toothbrush with Pressure Sensor. 5 Brushing Modes and 3 Intensity Levels, 8 Dupont Bristles, Premium Travel Case.
---
EXCELLENT CRAFTSMANSHIP: Our premium electric toothbrush features a damage prevention design to prevent rolling and falling, unlike most electric toothbrushes that get damaged when they roll off the counter. This addition will prolong your toothbrush's lifetime.
15 CLEANING OPTIONS: This Wagner electric toothbrush has a frequency vibration 48,000 VPM levitating motor to ensure a deep, thorough, and effective tooth brushing experience. It has 5 cleaning modes and 3 levels of intensity. In addition, the electric toothbrush has a built-in pressure sensor to protect your teeth and gums from damage. This combination allows you to choose from any of the 15 cleaning options. toothbrush removes up to 10 times more plaque than a manual toothbrush.
EASY TO CLEAN: Our Smart Electric Toothbrush with Pressure Sensor comes with 8 soft DuPont brush heads. We have made a smart timer into the toothbrush to keep teeth and gums protected and soothed. Professional dental recommendations of 2 minutes brushing time with 30 seconds interval reminders are included to ensure proper gum health. We recommend changing the brush head every 3 months. Replacement brush heads are also available on Amazon.
WHITEN+ TECHNOLOGY: 100% dentist-approved, this electric toothbrush has 2 whitening modes. Wagner toothbrush removes up to 10 times more plaque than a manual toothbrush. As a result, it begins to whiten teeth in less than 1-week, and it improves gum health in less than 2-weeks. Please switch whitening modes for every cleaning to achieve the best whitening result.
LONG BATTERY LIFE: Our electric toothbrush with a pressure sensor has an incredible battery life with USB wireless charging. You can carry the non-slip electric toothbrush anywhere or leave it at home. Our advanced Lithium-Ion battery is known for its long lifetime and will hold a charge for up to 30 days. We also offer a 1-year replacement warranty.